Evan Keast, Scott Martin, and Jordan Castro have collaborated to create a collection of 10,000 Non-Fungible Tokens (NFTs) known as Doodles NFT. They covered identities with names like , Tulip, Burnt Toast, and Poopie, respectively.
Keast and Castro had already earned renown in the NFT industry prior to the inception of Doodles. In 2017, they had worked together to create CryptoKitties. Martin had been creating his own art for approximately one year before joining forces with them.
Doodles NFT Collection
Doodles showcases original art by Martin, featuring hundreds of unique visual traits. Ecosystem includes a wide variety of characters, such as humans, cats, pickles, apes, sentient flames, skeletons, aliens, and more. Each Doodle NFT has varying degrees of rarity, which is determined by its traits.
While the Doodles team has not officially released a catalog of the rarest and most common traits, unofficial rankings can be found on RaritySniffer. To date, skeletons, cats, aliens, apes, and mascots have fetched the highest resale prices.
Keast, Castro, and Martin released a new product, Doodles, on October 17th, 2021. This release included a novel approach to PFP projects that had not been seen before. About a month before the project went live for minting, the Doodles team temporarily closed their Discord server once membership had exceeded 1,000.
The limited availability of Doodles meant that only a select few could join the project's community, making it even more special. When the Doodles sold out, the Discord server was opened up again, allowing more people to become a part of this exclusive club. In the months that followed, several NFT influencers and well-known celebrities joined the Doodles community, further cementing its status as one of the top PFP NFT communities.
Doodles CEO Julian Holguin, former president of Billboard, sat down with Decrypt's Stephen Graves at NFT Paris to talk about the strong vibes at the event and the importance of IRL meetups in Web3, what's next for Doodles and the community, and his prediction that many newer projects won't survive the crypto winter.
Routes of Doodles with The DoodleMap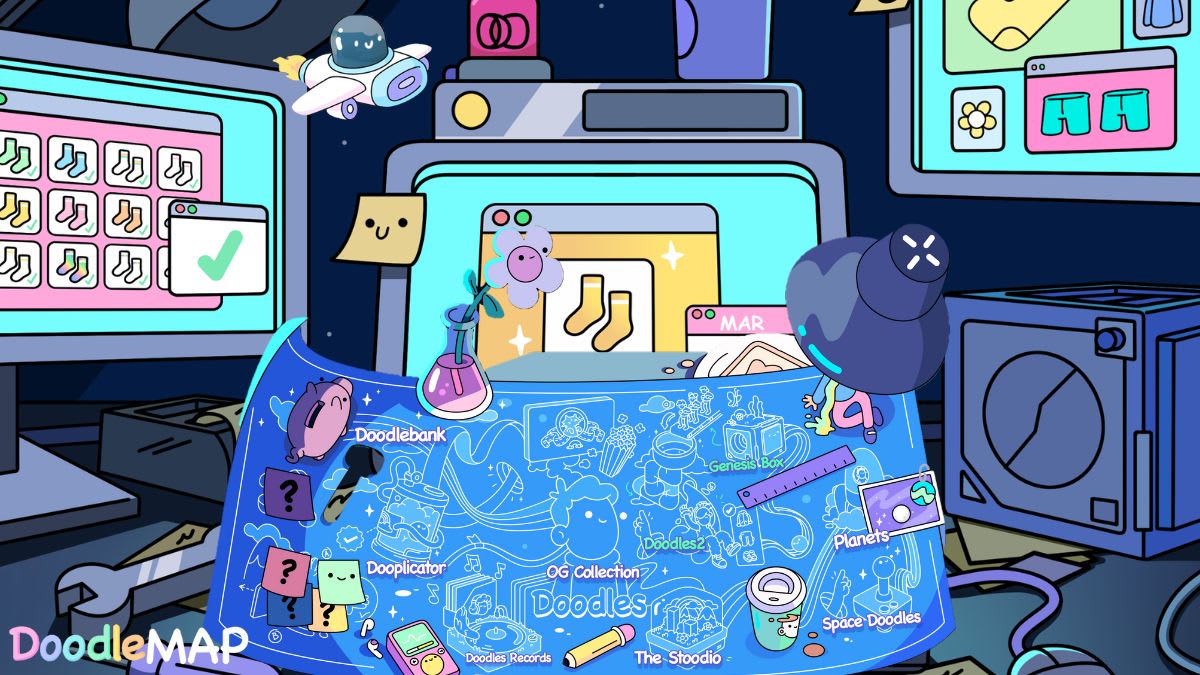 The renowned Doodles NFT platform recently revealed its comprehensive project blueprint, the DoodleMap, which serves as the foundation for the expanding Doodleverse. The DoodleMap offers an intriguing peek into the future of NFT collectibles, outlining the Doodles ecosystem's roadmap and the connections between various products and experiences under development.
The DoodleMap serves as a window into the universe they are constructing and demonstrates how all the elements connect. As they deliver various products and experiences, it will become evident that the original collection and its holders lie at the heart of the Doodleverse. This development has been well-received, and the community is eager to see how the project unfolds.
Doodles aim to foster creativity and imagination through the simple act of doodling. As part of their vision, they aim to transport individuals to new realities and experiences. They intend to harness the potential of blockchain and other revolutionary technologies to redefine what it means to be a fan, collector, or holder within a brand's universe.
Embracing the power of technology, Doodles acknowledges the impact of innovations like the printing press, television, and the internet on storytelling and identity formation. They intend to harness the potential of blockchain and other revolutionary technologies to redefine what it means to be a fan, collector, or holder within a brand's universe.
Doodles Projects
The project has expanded beyond the initial 10,000 NFTs and has released new NFT collections, live events, and merchandise available through its website. Doodle holders have power over the Doodles Community Treasury, where they can vote for experiences, activations, and campaigns benefiting the community.
Doodles has several exciting initiatives in the pipeline, including Doodles Fundraise, Doodles 2, and Doodles Records.
Doodles Fundraise
Doodles Fundraise, led by 776 Management, raised $54 million to help Doodles develop ventures in music, culture, and entertainment industries. The funds will be used to build out the Doodleverse and bring more experiences and activities to the community.
Doodles 2
Doodles 2, hosted on the Flow blockchain, will allow users to personalize their NFTs to match their digital identities. To claim victory in a recent contest, a participant needed to gather a sock from each of the 12 distinct types presently accessible to complete a collection. Doodles highlights that "Based on Dooplicator usage, there can be between 29 & 158 full collections," mentioning that holo socks are the rarest. The competition concluded on March 30.
Doodles Records
Doodles Records, in partnership with Columbia Records, will feature original music and hand-drawn album art, as well as limited edition wearables for Doodles 2. The partnership with Columbia Records is a significant step for Doodles, as it shows how the project is expanding beyond the NFT space and into the broader entertainment industry.
Doodles' Vision for the Future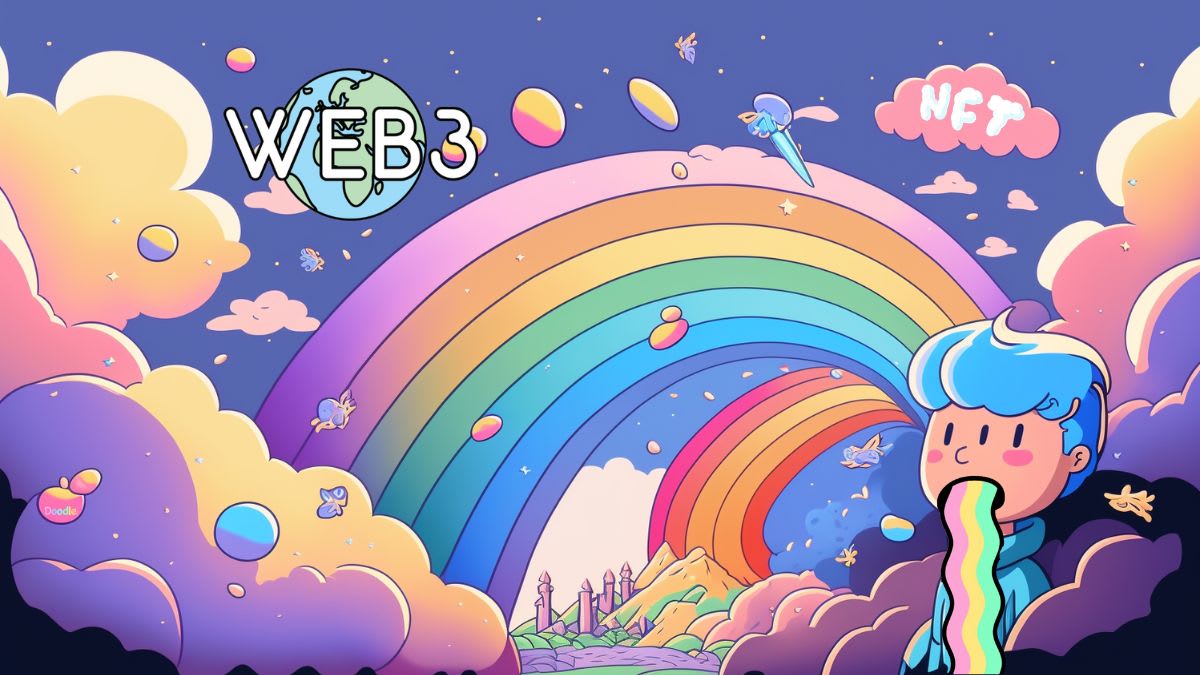 Doodles is committed to delivering tangible products instead of mere promises. The DoodleMap exemplifies this dedication, presenting a transparent view of the growing ecosystem and emphasizing the central role of Doodles holders and the original collection within this universe. This level of openness distinguishes Doodles from other NFT projects.
The Doodleverse encompasses more than just NFT collections; it is an evolving world of entertainment and lifestyle experiences, including virtual worlds, gaming, and social platforms. This expansive universe invites holders and collectors to engage in a variety of activities.
The latest DoodleMap update underlines the significance of the Ethereum ecosystem to the Doodles project. By heavily investing in Ethereum and exploring Web3's potential, the team is establishing a solid foundation for a sustainable and scalable NFT ecosystem. This devotion to the Ethereum community is evident in the team's participation in Ethereum-related initiatives and collaborations with other projects in the space.
Doodles declared, "Blockchain, like the printing press, TV, and the Internet before it, enables an entirely new format for storytelling and identity. We'll continue to harness this revolutionary technology to redefine what it means for a fan, collector, or holder to be part of a brand's universe."
The Doodles team remains dedicated to utilizing blockchain technology to redefine community involvement. By investing in the Ethereum ecosystem and seeking innovative ways to facilitate entry and retention within their community, the team aims to make its community proud to be part of Doodles.
Doodles CEO Julian Holguin believes that in-person meetups are crucial for NFT communities. By fostering a sense of community and connection, Doodles aims to create a more vibrant and colorful year ahead. They also remind their followers to be cautious of impersonator accounts and phishing links, urging them to verify any information with their official website, doodles.app, before proceeding.
Long-Term Potential of Doodles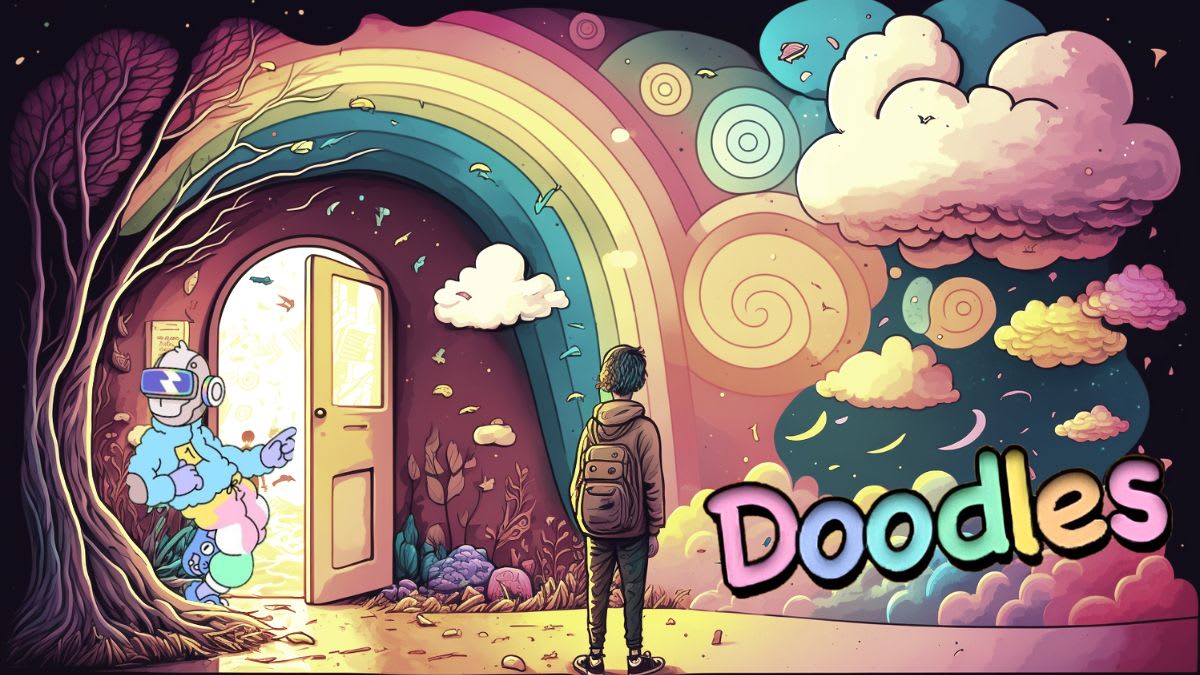 In a discussion about the long-term potential of Doodles and other NFT projects, it was mentioned that Doodles is aiming for mass adoption by branching out into different areas such as music. If they succeed, the original Doodles collection could become highly collectible and valuable over time, even with fluctuations in price.
The conversation also touched on the comparison of Doodles to Pokémon cards, where only a select few cards are highly valuable, while others are more common and affordable. The success of Doodles, in this case, would largely depend on their execution of content and branding.
Participants in the discussion expressed their bullish outlook on the Doodles main collection, believing that if the team succeeds in pulling off their vision, the project could do well. However, this doesn't mean that every aspect of Doodles will necessarily be successful. The historical significance of the project could depend on the team's ability to achieve their goals.
Other projects, such as VeeFriends and Clonex, were also mentioned as potential long-term investments in the NFT space. Overall, participants expressed optimism about the future of these projects, as long as their teams can execute their visions effectively.
Doodles is a popular NFT project with colorful, line-drawn characters that have become very popular around the world. Despite their simple appearance, they have become one of the most influential and beloved PFPs in the NFT market with high sales volume.
Doodles has quickly grown into a major player in the NFT ecosystem, amassing around 298,000 ETH in secondary sales. With immersive events and collaborations, the project is working to bridge Web3 and the real world. Doodles has also acquired Golden Wolf, an award-winning animation studio, to focus on narrative storytelling and character development.
With a solid foundation and substantial funding, the Doodles project is poised to make a significant impact in the NFT space and beyond. As the project continues to grow, it will be exciting to see what the future holds for this innovative Web3 entertainment company.